I am joining the Walk for Water, are you?
Walk For Water has been conceived as a people's movement and is poised to chart a new course in the history of the modern world. Walk For Water embraces the noble purpose of making everyone in the world feel responsible to water
World Water Day – March 22nd 2017 Walk for Water Countdown Begins
Water now, Water tomorrow, Safe Water for all

Water is vital for life on earth, yet millions still do not have access to clean water. "Water is life" and we are determined to improve lives by increasing awareness, minimizing wastage, promoting rainwater harvesting and the purification of recycled and contaminated water. Water is our religion and we intend to realize our dream to place India at the center of a global "Blue Revolution."
Awards and Accolades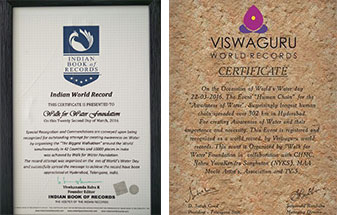 Three World Records for Walk For Water!!! Thanks to all the participants and partners for making it possible.
Photos and Videos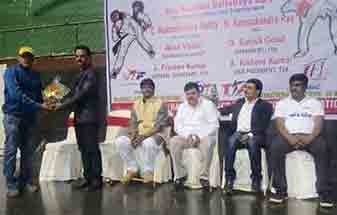 Inter school Taekwondo championship- LB indoor Stadium -Hyderabad – Telangana with 800 students took walk for water pledge.
Do your bit for the nature, save water
Anyone and everyone can join the walk. 'Water is Life' and all life on earth depends on water availability. Contribute to the cause of water conservation by joining us in spreading awareness and changing lives.
Volunteer with us to make an immediate and lasting contribution to society and join us in our endeavor to place India at the centre of a global "Blue Revolution".
The UN has recognized that clean drinking water and sanitation are essential to the realization of all human rights. The Honorable Supreme Court has time and again declared access to clean drinking water a fundamental right as part of the right to life under Article 21 of the Indian Constitution. Yet, millions of people do not have access to clean drinking water. At any one time, close to half of all people in developing countries are suffering from health problems caused by poor water and sanitation. Together, unclean water and poor sanitation are the world's second biggest killer of children. YOU CAN MAKE A DIFFERENCE. ADOPT A VILLAGE. Mail to info@walkforwater.in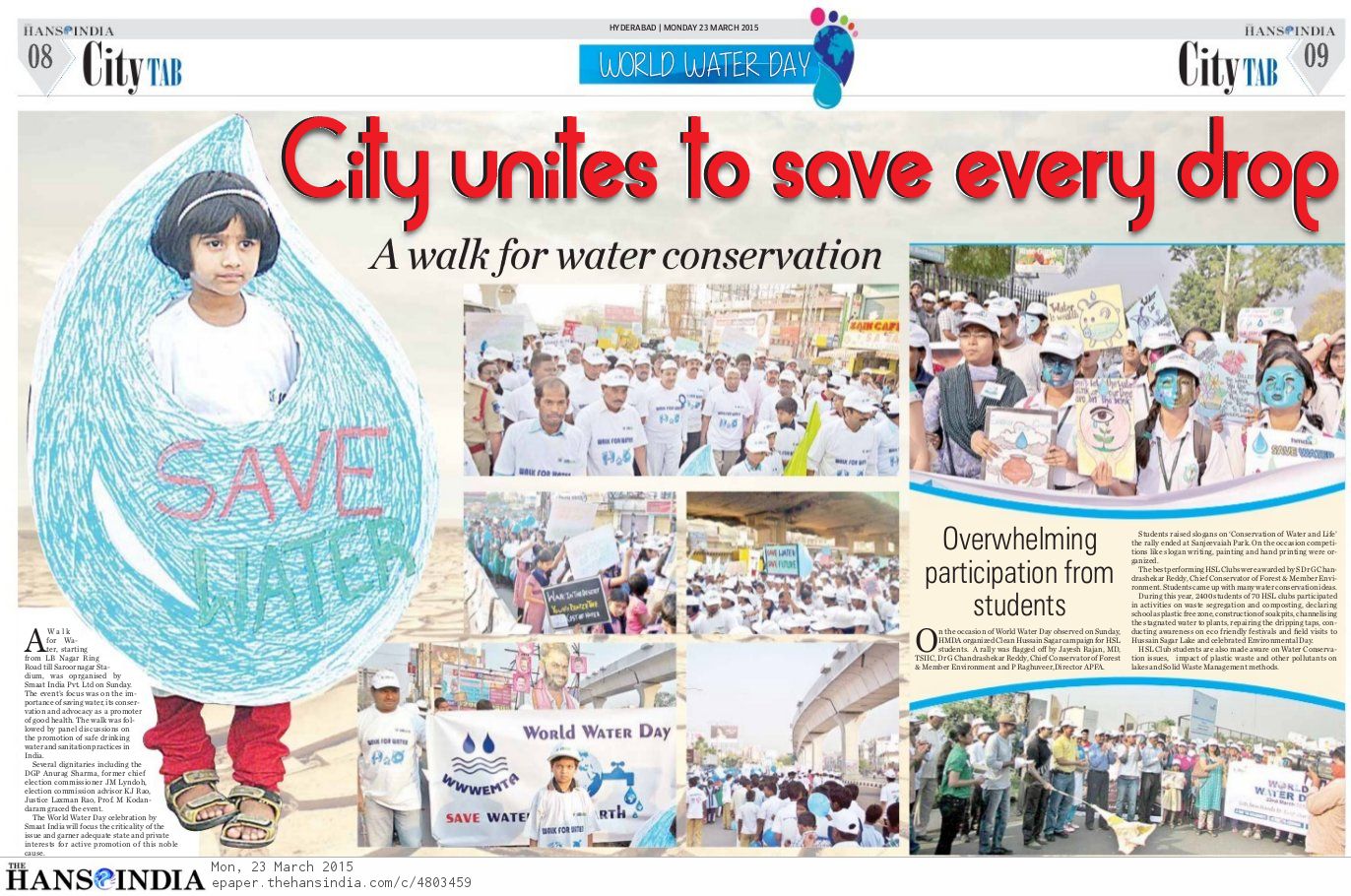 Register for Walk For Water
Walk For Water is poised to charter a new course as the revolutionary new global movement. Register for Walk For Water World Water Day and witness yourself making history! Stand hand-in-hand with friends, family, colleagues and even strangers to deliver a simple message – Water is Life! Water is our Religion! Join the Blue Revolution!



Register Now